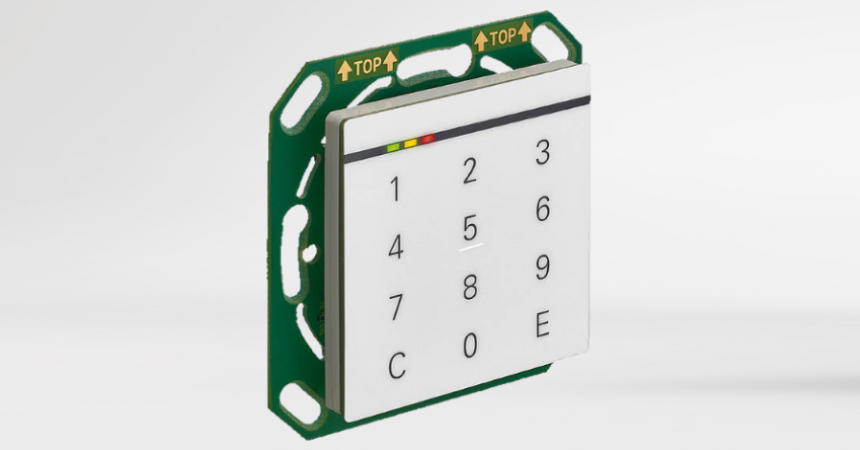 rf:key Uni reader (OSDP V.2)
Lesedauer:
7
Minuten


Based on the new reader model Relino B PIN Lesers released by the end of 2016, the new rf:key Uni reader is developed with the open protokoll OSDP V.2. Therefore, operating this optically wonderful reader is possible on a hudge variety of access control systems such as Siemens SiPass, Siemens SiPort, Lenel, PCSC, Honeywell, Tyco C-Sure and many others as well. If you have any specific solution in mind, please ask our sales team for recommendations.
Not every manufacturer has implemented the standard OSDP V.2 protocol, so it is likely that some adjustments may have to be made to the reader's firmware. As we develop hardware, firmware, drivers and software ourselves, changes can be made very easily and with a reasonably fast result. Starting at a minimum order quantity of 500 pieces we will be happy to implement your specific demands to the readers firmware free of charge. Any changes made to the OSDP V.2 protocol will be done in close liaison with the manufacturer of your access control software.
When designing this universal reader, we have made a great effort to suit all the needs from the public sector and industrial fields. Our rf:key Uni reader therefore offers a variety of exceptionally great features in one single RFID reader.
Design highlights
RFID reader for seemless in-wall mounting and easy integration in any standard frame with 55×55 mm.
Suitable frames are available from every common manufacturer such as Busch-Jaeger, Gira, Merten, Kopp, PEHA by Honeywell, Jung, hager/Berker, Siemens (Delta), Klein, jäger, Legrand, Feller, … and many, many more producers and OEM makes like GAO, Pera, Monte, sygonix, Makel, Viko, Pera, Roth Lange and so on. This is just a short list provided in 2016. As soon as you know which system you are going to use, please ask our sales team for details and a free-of-charge compatibility check.
Switchable antenna for mounting the rf:key Uni reader either in plastic housing or selectively in metal housing.
Geeignet für "back-to-back" Montage, das heisst zwei direkt gegenüberliegend in einer Wand montierte Leser stören sich nicht gegenseitig und es kann auch bei ungünstigen Montageorten zuverlässig der Ein- und Ausgang voneinander differenziert werden.
RFID reader design suitable for back-to-back mounting of two reader (readers opposite of each other won't interfere each other).
Touch PIN keypad with haptical response beneath the digit "5", adjusted surface feel especially for blind / disabled people (changes to the position and type of haptical feedback are possible, alternatively there's a resistive foil keyboard available instead of the touch keyboard)
Technical details
RFID base technology: LEGIC® SM4200M

interface:

RS485

optional version with Magstripe Clock/Data or Wiegand D0/D1 available

electronically shiftable bus terminating resistor

firmware / software protocol:

standardprotocol OSPD v.2

Magstripe Clock/Data format track 1 oder 2 (by parameter) oder Wiegand D0/D1 format 26 Bit or 56 Bit

alternatively the rf:key Uni reader is, of course, available with our native rf:key protocol as well (please contact our sales team for more details)

customer-specific protocols are possible as well, please ask our sales team for your personal offer

Multi-ISO-reader:

MIFARE Classic, DESFire (EV1, EV2)

ISO14443 A+B / ISO15693

LEGIC prime/advant

Integrated slot for SAM module in SIM format

MIFARE SAM AV2 in SIM format included (can be delivered by the customer itself if preferred)

sabotage detection

PIN keyboard:

capacitive keyboard with haptical ur mit haptischer accentuation under the digit "5" (or otherwise, depends on the customer's needs for the specific project)
as an alternative to the reader's touch keyboard, there's a resistive foil keyboard available as well on which every single key can be found tactually so this version can be used absolutely barrier-free
Additional technical information
voltage 8…30V DC (internal inverse-polarity protection)
connection: 9pin screw terminals
operating temperature -25°C bis +60°C

3 LEDs (green, yellow, red – other colours possible if desired)

1 piezo signalling device

the typical read distance depends on the media used, generally speaking about 1,5 – 10,5 cm (EC format) respectively 0,5 – 5,0 cm (standard-keyfob) and 1,0 – 6,0 cm (original rf:key keyfobs with a large read distance)
Don't set any limits to your creativity! The rf:key Uni reader will look great in a discreet metal environment, it will be outstanding in a modern and colourful interior and even fits in glass enclosures for use in medical applications. As to the switchable antenna it can be mounted nearly everywhere, in plastic frames such as metal housings.
The read distance will typically be around up to 5 centimeters, depending on the type of tag, applicable cryptographic algorithms used and of course depending on the mounting of the reader. Our original rf:key tags with active hardware-based copy protection (real challenge-response-authentication) will typically reach a practical read distance of about 1 centimetre. Using your own technology, especially when using the internal SAM module and your own cryptografic security features, the read distance may differ.
For sure, the well-known security and convenience functions of our rf:key systems (high security tags, random UID, do not track option for suiting works committees) will be compatible with the new rf:key uni reader. As usual on project based devices, all technical data will be clarified by our professionals, the customer's security planner and of course the customer's project team.
Available options:
| | | | | |
| --- | --- | --- | --- | --- |
| Art. xxxx | OSDP V.2 | colour: white | price available on request | minimum order quantity 500 pieces |
Further information on rf:key Uni reader:
– data sheet (not yet available)
– installation guide (not yet available)